TV Stuff...and Snape
I watched
Harry Potter and the Sorcerer's Stone
last night, and I would totally let Snape do naughty things to me.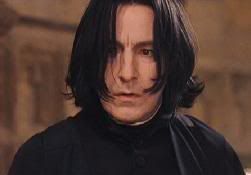 Curb Your Enthusiasm's fifth season begins on September 9. Unfortunately I don't have HBO, so I'll have to wait till the DVD comes out.
*small voice* I sort of want to watch
Kid Nation
. And I got a little misty eyed at the video on the site. What?! I had PMS!
YES!!
American Gladiators
is coming back! I used to watch that on Sunday afternoons. Ohh, maybe I should try out! It says a good candidate is "big, bad, and athletic with a personality that sizzles." That's definitely me. You MUST watch this video. I don't remember Malibu, but he is a tool.
Anchorwoman
was canceled after 1 episode. HAHAHAHA Oh wait; it's being replaced by 'Til Death. Gotta love FOX.
Labels: Jen's boyfriends, movies, TV